Guide
/ How to transfer data from phone to phone on your computer?
How To Transfer Data From Phone To Phone on your Computer?
Holly McQuillan, Product Manager
By
|

Updated on September 26th, 2019.
When switching to a new phone, do you prefer to transfer data manually or transfer all files more efficiently? It's easy to transfer by our software. MobileTrans can transfer data between two smartphones with one-click, regardless of Android, iOS or WinPhone.
Check our video tutorial below:
Let's learn the detailed steps to use MobileTrans on your computer:
Step 1. Open Phone Transfer feature
Step 2. Connect both phones to your computer
Make sure both your phones are connected with mobiletrans software. You can click Flip button to switch the Source and Destination phones. Data will be transferred from Source phone to Destination phone. Here is an example of iOS and Android phone transfer: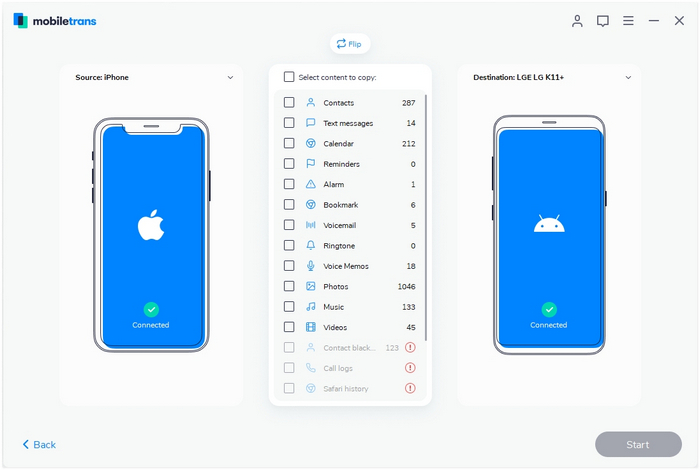 Step 3. Select files types and Start transfer
Select the file types you want to transfer and click on "Start" button. It will start to transfer. Do not disconnect or remove the phone during transfer.
Please tick the option "Clear data before copy" if you want to erase existing data on the destination phone.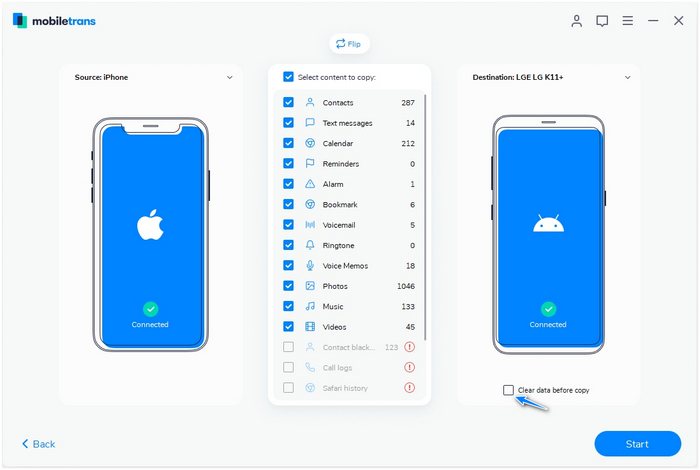 It will complete the transfer after a few minutes. Look at the target phone and check if all selected files have transferred to the device.