Guide
/ How To Backup & Restore iOS Kik Chats on a Computer?
How To Backup & Restore iOS Kik Chats on a Computer?
Holly McQuillan, Product Manager
By
|

Updated on September 26th, 2019.
Our MobileTrans works to back up and restore Kik chats for iDevices. You're able to back up Kik chats and attachments from iOS devices to a computer. It is available to view backup data on the software. You can move Kik data to an iOS device or export it to your PC.
Let's see how to backup & restore Kik chats step by step.
Step 1. Connect iOS device to the computer
Step 2. Launch MobileTrans software and run Kik module
After connecting the phone, start "WhatsApp Transfer" on MobileTrans and select the Kik tab on the left. You'll see two buttons here, Backup, Restore.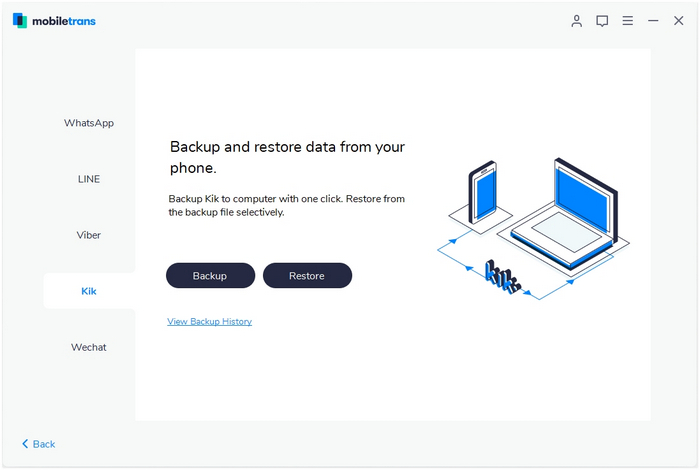 Step 3. Backup Kik chats from iDevice to a computer
From there, you start to back up Kik chats after clicking on Backup button. The backup will complete in a while. You don't need to do something else. It will pop up the window Backup completed when it finishes backup.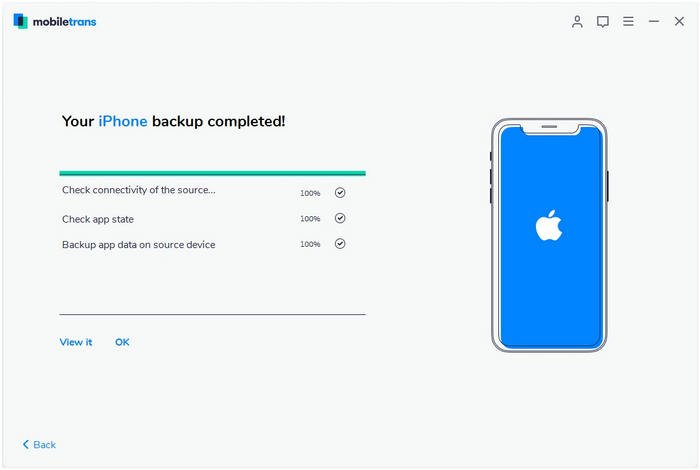 Step 4. Restore Kik chats
Click on Restore button or "View Backup History". You're able to restore Kik to iPhone after you click on "Start" button. The restoring will complete and display "restore completed". You can view if there are transferred Kik chats on iPhone.